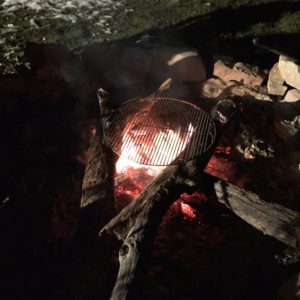 Baird, Texas.  West Texas Caked in Frozen Mud. On a recent weekend trip to a friends Deer Lease we were met with an unwelcome surprise; everything was wet and frozen. I was charged with cooking some fabulous RibEyes from "Kuby's" in Highland Park, TX, and oh, we forgot the charcoal. I never use the stuff and I hate its taste, so; no problem I thought, Ive got this.  No problem? Think again. As a Yankee from the northeast I hadn't realized that the foreign landscape damp and frozen in late December was somewhat of an uncommon sight. The soaking rains had permeated everything. Not only was every last twig in sight completely soaked through and frozen, even wood on the bottom of the pile had succumbed to what must have been a deluge of water, evident through the massive puddles we had to forge through. Another problem, night was falling and the Mrs. was hungry. Think fast. Mesquite litters the landscape, large, small, half buried, half wet. Having gathered everything and formed the beginnings of my blaze, I would be taught the lesson, everything really is more pronounced in Texas. When the wood is wet, boy is it wet. Being that we were on a Deer Lease there were a few tools at our disposal. Some of you may know it as a propane weed burner, those of us who have hunted hogs know how handy it is for ridding a hide of hair before cooking. This simple flamethrower would be my hero of the evening.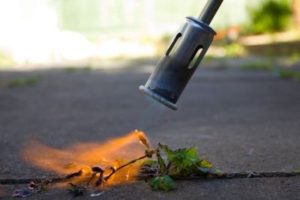 Pile on the wet Mesquite wood, hit it with the torch. I don't mean a light touch, I mean leave the torch under the woodpile for an hour and get your fire going. In my being instructed to cook dinner I was directed to a Weber Kettle. Taking a shovel and attempting to move some coals from the fire pit to the kettle it became apparent with the shovel caked and sizzling with a wet clay, you're not moving any coals if you plan on eating anytime before tomorrow afternoon. Improvise, instead of taking coals to grill, take grill to coals. Well, Grill to Fire, the coal game wasn't really on that night. Laying two limbs parallel to one another in the fire-ring, a bit of leveling from below and we had it, a rest for the grate I removed from the Weber Kettle. Being that we were essentially in Mexico, of course our fare would have some south of the border influence.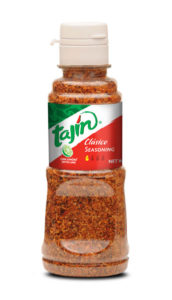 Well this was probably one of the most terrific introductions to my spice cabinet. Having used the venerable spice to rim my Micheladas, I never thought to use it to marinate my steaks, but thank you Emma because it proved to be awesome. This combined with the wet smokey mesquite provided unimaginable flavour to a terrific cut of meat. These steaks were about 2- 2-1/2" thick, perfect for a flash sear to medium-rare. It is most often a rule that you do not want to cook with flame, but rather with indirect heat, or very near but not on that flame. This night all the rules were to be broken. Wet Wood Would Burn, Creating a heavenly amount of Mesquite smoke while it did. As many of you who smoke using wood chips know, you soak your wood before you put it to flame. Meat Would Be Cooked On Flame, this fire was hot, the majority of our flames were blue to white to orange, no yellow stuff here. Low flames with incredible heat. No 4-5 minutes then a flip, here we're talking 3 Minutes Flat, Flip for another 3. Unfortunately the only images we have are those in our minds of this resting perfection. Well, that and the half devoured shot below.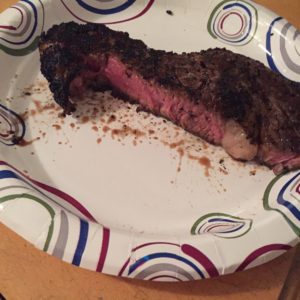 We didn't just cook our steaks on the fire that night. We fashioned a pan out of foil as I usually do before placing asparagus on the grill. Coating liberally with Olive Oil from the farm, as well as a generous amount of sea salt. Thats it. Placing this 'tray' directly on the hottest part of the grill creates a flash fry and a crust on these vegetables that everyone will love. Turn them over as soon as a brown crust starts creeping up the sides. Couple more minutes and you're done. One of our party likes theirs even more crispy, no problem, just drop them on the grate to burn off some of the oil, just not too long or you end up with a sort of asparagus pop-corn.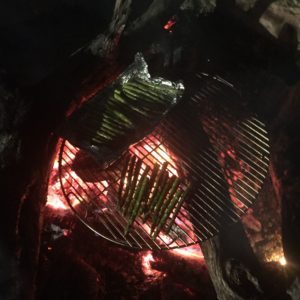 I cook quite a few steaks a year, for myself, and for large groups. I cook them over a variety of media, inside and out. These steaks were hands down the best steaks I have ever had, and thus the best steaks I have ever prepared. In trying to replicate that evenings meal I have always fallen short. Sometimes you just can't replicate the natural elements that contribute to the amazing human experience. Sometimes your wood is beyond wet and you think you're going to be eating Steak Tartare. Sometimes you take what you have and make the best of it and hope for the best. Sometimes the stars truly align and give you the most heavenly meal you didn't think stood a chance!